Microneedling is a non-invasive, painless, and safe method for improving the appearance and texture of the skin. Through the controlled micro-injury, the natural process of healing and tissue repair is activated.
Dermapen 4 represents the evolution of all microneedling devices. It is an automatic digital microneedling device, the head of which carries 16 needles that oscillate very fast vertically, creating multiple punctual injuries on the skin surface.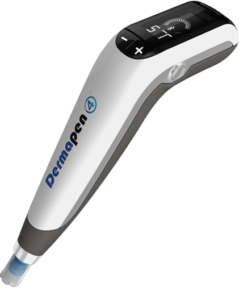 Dermapen 4 microneedling treatment
Hydration
Tightening
Regeneration
Shine
Improvement of discolorations and fine wrinkles
Antiaging
The treatment is suitable for all skin types. After the treatment, a mild irritation occurs, which subsides within the next 12-48 hours. Depending on the individualized treatment protocol followed, 2 to 4 treatments in 4 to 8 weeks intervals are recommended. The results are visible a few weeks after the first session and become even more noticeable after the third session. For the next 6-12 months after a series of treatments the skin continues to improve.